Transportation Alternatives Program: Clark, Skamania, and Klickitat Counties
Introduction
TAP was authorized in 2012 under the Moving Ahead for Progress in the 21st Century (MAP-21) to provide for a variety of alternative transportation projects, including many that were previously eligible activities under the prior Transportation Enhancements, Recreational Trails, Safe Routes to School (SRTS), and Scenic Byways programs. The Program goals address expanding travel choices, strengthening the local economy, improving the quality of life, and protecting the environment.
Transportation Alternatives projects include pedestrian and bicycle facilities, viewing areas, community improvement activities, environmental remediation, recreational trails, and safe routes to school. For more information on the Transportation Alternatives Program, please go to the Federal Highway Administration Interim Guidance page.
TAP allows each region and/or state to develop their implementation process within federal guidelines. However, in order to give the proposed program a direction and focus the following goal statement is proposed:
"Transportation Alternative projects are federally-funded community-based projects that expand travel choices and improve the travel experience."
Funding Levels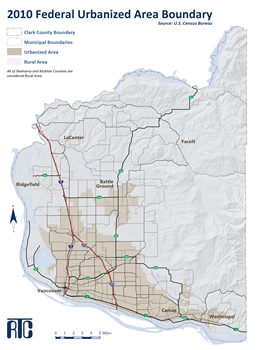 The Transportation Alternatives funding is sub-allocated to the RTC three-county RTPO region based on population, with varying amounts being allocated to US Census defined urbanized and rural areas. In addition, a portion of the funds are flexible and can be programmed within either the urbanized or rural areas. The attached map illustrates these areas.
The 2015 three-county RTC regional sub-allocation is just over a half a million dollars. The TAP funding estimate for 2017-2018 is based on the assumption that funding allocation will remain constant with the current allocation. The region also had approximately $50,000 in rural TAP carry-over funds from the 2013 selection period. In addition, the region will add $200,000 per year of federal CMAQ funds to the TAP selection process, with the condition that these funds must be spent on CMAQ qualified projects within the Air Quality Maintenance Area boundary.
Estimated Transportation Alternatives Program Funding Sub-Allocation
| | Urban | Rural | Flexible | Total |
| --- | --- | --- | --- | --- |
| 2017-2018 TAP | $557,000 | $193,000 | $395,000 | $1,145,000 |
| 2017-2018 CMAQ | $400,000 | | | $400,000 |
| Total | $957,000 | $193,000 | $395,000 | $1,545,000 |